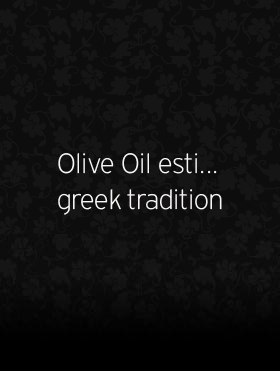 Olive Oil and Health
When choosing fats, olive oil is a healthy choice. Olive oil contains monounsaturated fat, a healthier type of fat that can lower the risk of heart disease by reducing the total and low-density lipoprotein (LDL, or "bad") cholesterol levels in blood. In contrast, saturated and trans fats — such as butter, animal fats, tropical oils and partially hydrogenated oils — increase the risk of heart disease by increasing total and LDL cholesterol levels. According to USAs Food and Drug Administration (FDA), consuming about 2 tablespoons (23 grams) of olive oil a day may reduce the risk of heart disease. You can get the most benefit by substituting olive oil for saturated fats rather than just adding more olive oil to your diet. All types of olive oil contain monounsaturated fat, but "extra-virgin" olive oils are the least processed forms, so they're the most heart healthy.

The eating habits of people in developed countries have gradually changed over the past few years. In these days, eating customs are characterized by an excess of calories, deficiency in vitamins, minerals and fibre, as well as by a nutritional imbalance, resulting in an increase in chronic diseases such as cancer and diabetes. The solution would be to adopt a healthy diet like the Mediterranean, which is nutritious and pleasant.



In recent years, medical researchers have focused their attention on the virtues of the Mediterranean diet and especially on olive oil. On closer examination, this ancient liquid has proved to be more than a source of monounsaturated fat. It is also a rich source of antioxidants (substances that currently undoubtedly attract the attention of scientists).
Antioxidants play an important role in the arteries. Low-density lipoproteins (LDL) or bad cholesterol, are actually harmful only when they oxidize. If this happens, particles form that create a plaque that accumulates and incredibly increase the chances of blocking an artery. Antioxidants help prevent this oxidation from happening.

Vegetables also provide important antioxidants, and thanks to olive oil, the people from the Mediterranean countries have included in their diet a great number of these.


But the virtues of olive oil go beyond the protection against cardiovascular diseases. Some of the antioxidants called "polyphenols" in olive oil could destroy the substances that lead to cancer cell proliferation. In fact, some studies indicate that women in Mediterranean countries suffer less breast cancer than in countries like the United States and Australia, where the percentage is very high.



Olive oil also plays an important role in diabetes. Research has shown that people who enjoy olive oil in their diet, have a better control over their diabetes and lower levels of some fats in the blood, when compared with the diet rich in carbohydrates normally recommended for this type of diabetes.

Olive oil has a definite protective effect on metabolism, arteries, stomach and bile. It promotes growth during childhood and extends life expectancy in the elderly. It has a unique effect on blood serum lipids. Furthermore, olive oil seems to have a colagogic effect (expulsion of the bile) and a therapeutic effect on peptic ulcers.



The Mediterranean diet is rich in complex carbohydrates (whole wheat bread, legumes and wheat derivatives), fresh fruits and vegetables, fish (with high omega-3 fatty acids), low in consumption of dairy products and high in consumption of olive oil. Indeed, the nutritional effect of olive oil is reflected in the health of its consumers in the Mediterranean Basin, which have a low rate of heart diseases and high life expectancy. Unfortunately, these beneficial effects are disappearing due to the replacement of that kind of diet by the "western" one.